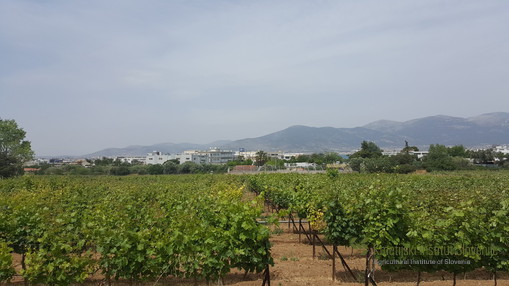 Title of the project:

Protecting the Diversity of Mediterranean Vitis in a Changing Environment

Acronym:
MedVitis

Project duration

1th of April 2018 - 31th of March 2021

Leader of the Slovenian research group:

Members of the Slovenian research group:
dr. Lovro Sinkovič, (Radojko Pelengić), izr. prof.dr. Vladimir Meglič

Coordinator:

Hellenic Agricultural Organisation-Demeter, Grčija (dr.Aliki Kapazoglou)
Partners:
University Abdelmalek Essaadi, Morocco (Younes Hmimsa); Agricultural Institute of Slovenia, Slovenia (dr. Barbara Pipan)
Collaborators:
Institut National de la Recherche Agronomique, Morocco (dr. Aicha El Oualkadi)

Funding:

By ERA-NET ARIMNet2 iniciative; national funder is Ministry of Agriculture, Forestry and Food (contract no. 2330-18-000077)

Project summary:
Viticulture and wine production are important agricultural activities in Mediterranean countries, such as Greece, Slovenia and Morocco. In all three countries diverse geographical terrains and microclimates have favoured wide Vitis diversity and led to local varieties that are well adapted to the specific agro-climatic conditions of each region, supporting sustainable agricultural systems of low inputs. However, introduction of foreign commercial varieties have resulted in genetic erosion and loss of genetic diversity, necessitating the undertaking of collaborative actions to preserve the diversity of Vitis genetic resources. Moreover, environmental changes across the Mediterranean region, linked to the the ongoing global climatic changes, and the threat of diseases may have a negative impact for Mediterranean viticulture. This requires the implementation of activities to preserve well adapted local varieties or develop improved varieties with tolerance to changing environmental conditions and resistance to pathogens. The project, MedVitis, proposes an integrated effort by four partners originating from Greece (1), Slovenia (1), and Morocco (2), aiming to protect the diversity of grapevine germplasm across the three countries, in order to better manage issues of grapevine identification, genetic erosion, climate change and Vitis pathogenicity. The proposed research could provide strategies for improved management of grapevine genetic resources and impact socio-economic development as it would promote sustainable viticulture, support rural development and enhance the economy of local communities.