Relationships between the hypothalamic-pituitary-gonadal axis, androstenone production in testes and skatole formation from tryptophan in intestine and their metabolism in liver.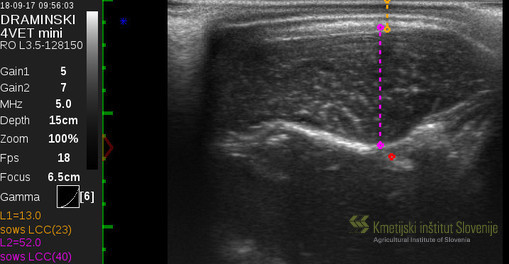 Ultrasonic measurement of the backfat thickness and Longissimus muscle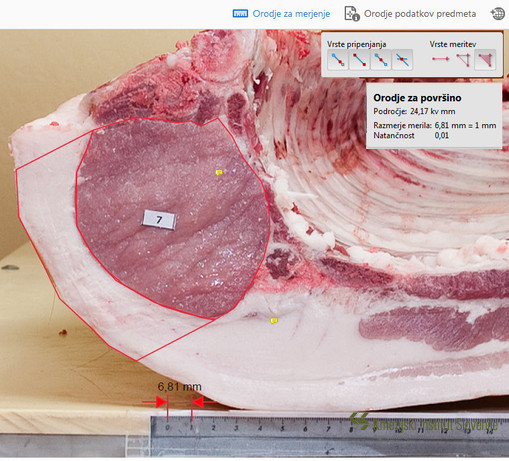 Measurement of Longissimus muscle area and fat above Longissimus muscle area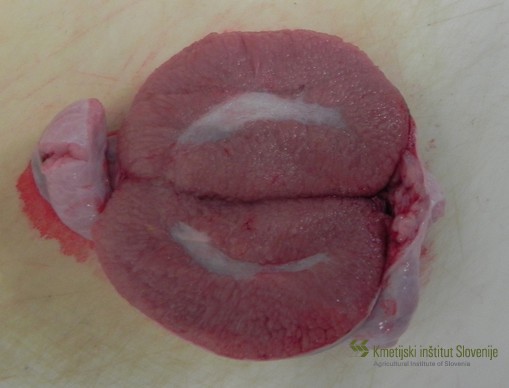 Testis (cross-section)
Histological fixative of testicular tissue (HE staining)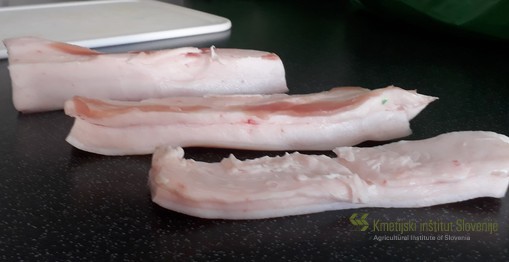 Fat tissue samples for boar taint analysis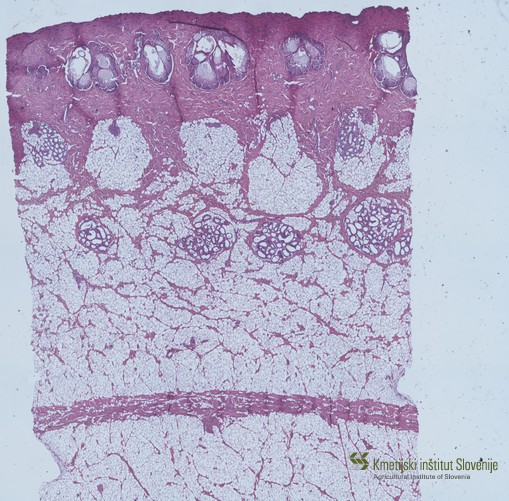 Histological fixative of skin (HE staining)
Project overview
Project summary
Pig production industry in European Union (EU) faces the challenge of ending with the practice of pig castration in 2018 due to the welfare issues raised concerning surgical castration without pain relief. Presently the two most viable alternatives are fattening of intact males, and fattening of pigs vaccinated against gonadotropin releasing hormone (GnRH). The latter is a relatively novel approach, as this androgen deprivation method, also called immunocastration, has been available in EU only since 2009, and seems to be of particular interest for the situations which demand raising pigs to higher age and weight. Still, the immunocastration is rarely applied on pigs beyond standard slaughter weight and consequently the majority of available data on immunocastration implies to a standard vaccination protocol, which leads to the effective immunisation prior the onset of puberty. Thus, a large gap of knowledge about physiological response and the consequences for pork production exists for older category of pigs, intended for high quality meat products, but can be used also for males that were left entire for other purposes. Therefore, the main objective of the proposed project is to gain knowledge about physiological effects of androgen deprivation in early or late sexual development phase (maturing and adult boars), using different immunocastration protocols (i.e. emphasis on pork production situations with older and heavier pigs). It is hypothesized that the physiological effects of androgen deprivation differ, if being applied in early or late stage of sexual development, which we will try to elucidate with the proposed project and explain the mechanisms involved. Effects on reproductive function, histological and immuno-histochemical structure of testicular tissue, expression of the second isoform of GnRH (GnRH2) and its receptors in testes, level of steroid and metabolic hormones and body composition, with emphasis on fat deposition will be studied. Moreover, the project aims to provide an answer regarding the need for third vaccination when the delay between V2 and slaughter is very long. It is hypothesized that GnRH2 (e.i. intratesticular increase in GnRH2 expression) is responsible for restoration of reproductive function in immunocastrated boars observed in some studies. Different vaccination protocols which will be studied, in particular the time elapsed between effective vaccination and slaughter, will also provide the answers regarding the clearance rate of boar taint substances and development of fat tissue. Additionally, relationship between key boar taint compounds, concentrations of steroid hormones, backfat thickness, fatty acid composition and oxidative stability of fat and meat tissue will be investigated, as it is hypothesized, that polyunsaturated fatty acids are positively correlated with the level of androstenone and that short-chain fatty acids could also contribute to boar taint.
In the frame of the project, two different work packages (WP) will be carried out, each related to a different alternative use of immunocastration in pigs.
WP 1: Evaluation of immunocastration in young boars and for application in heavy pig production
WP 2: Evaluation of immunocastration in sexually mature boars from AI service
WP 3: Dissemination of results
Project results