Expert and Research Work of the Mycology Group
Diagnostics and consulting: detection and identification of phytopathogenic fungi and fungus-like organisms (morphological and molecular identification)
Special control of sudden oak death (Phytophthora ramorum)
Monitoring the occurrence of economically important phytopathogenic fungi and fungus-like organisms
Control and containment methods for fungal diseases of agricultural plants
Finding the sources of resistance of agricultural plants to fungal diseases (bean anthracnose , brown rot and anthracnose of fruit trees and soft fruit)
Taxonomic groups of fungi and fungus-like organisms to which we pay special attention

Neonectria spp. and other Cylindrocarpon similar taxa, with an emphasis on pathogens living in soil and on coniferous trees
Monilinia Honey - biology and epidemiology of M. fructicola, M. laxa, M. fructigena and M. polystroma and possibilities of their control
Colletotrichum Corda - diversity and ecology of species on fruit trees and soft fruit and host-pathogen interactions
Armillaria (Fr.) Staude – identification and ecology of species on woody hosts
Metarhizium Sorokin - diversity and ecology of species in Slovenia, inventorying on roots of vegetables, in soil and on insects and the possibilities of use in biotic control
Bionectriaceae Samuels & Rossman with an emphasis on Clonostachys Corda - diversity and ecology of species in Slovenia, especially taxa related to phytopathogenic fungi and harmful insects and nematodes
Fusarium Link - taxonomic and phylogenetical concepts of species and genera, mycotoxigenicity, plant and opportunistic human pathogens
reference and working collection of fungal isolates from genera Phytophthora, Monilinia, Fusarium, Guignardia, Armillaria and Colletotrichum

Ecological groups of fungi and fungus-like organisms to which we pay special attention

species from the Phytophthora genus on woody plants in fruit production, ornamental use and natural environment
fungal diseases in apple plantations, with a special emphasis on the species Neonectria spp., Marssonina coronaria (Ellis & Davis) Davis, Sclerotium rolfsii Sacc.
sooty blotch and fly speck fungi on fruit
entomopathogenic fungi and nematode-related fungi
fungi in ecological production systems
endophytes in agricultural and ornamental plants
cereal and legumes seeds diseases
Special Supervisions
Special supervision for sudden oak death (Phytophthora ramorum) and the Phytophthora kernoviae species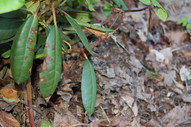 The sudden oak death disease is caused by the fungus-like foreign organism Phytophthora ramorum. It parasitises a wide circle of hosts among ornamental plants and trees. The symptoms of the disease express themselves as leaf spots, decaying stems and branches and in trees as necroses on bark that cause drying of the entire tree. After the outbreak of the disease in the USA, where trees dried up to a wide extent, mainly various species of oak, phytophoral sudden oak death was also recognised as a dangerous harmful organism in 2002 in the EU. For this disease, obligatory phytosanitary measures are prescribed.
In Slovenia, the supervision of the disease began in 2003 in order to prevent its introduction and spread across the country. In the same year, we already discovered the first infected plants. The inspections and sampling were done by the associates from the Phytosanitary Inspection Service, the Slovenian Forest Service, the Slovenian Forestry Institute and the Agricultural Institute of Slovenia, which also planned the supervision, coordinated the progress of activities and performed laboratory analyses.
By the end of 2012, 1895 inspections of ornamental plants were performed in nurseries, distribution centres, points of sale, parks and gardens as well as numerous inspections of plants in forests. 1336 samples of plants, water and soil were analysed. The infected ornamental plants were found 69 times in distribution centres or points of sale, most frequently in 2007. All the cases involved plants not produced in Slovenia. The disease was discovered three times on ornamental plants in a park, two times in a nursery and one time in a private garden, but it was never detected in any forest. Most often, the infected plants were from the Rhododendron and Viburnum genera.
Each positive detection was followed by phytosanitary measures for rooting out the disease, which were successful and thus the disease did not spread in Slovenia. In ornamental plants, we also detected infection with 10 other species of phytophtora. Among those, the Phytophthora kernoviae species, which is also a part of the supervision and causes similar symptoms as P. ramorum, was not present. The supervision is still ongoing.
More information about host plants, symptoms and legislation:
Flyer: A threat to our woodlands, heathlands and historic gardens Phytophthora ramorum